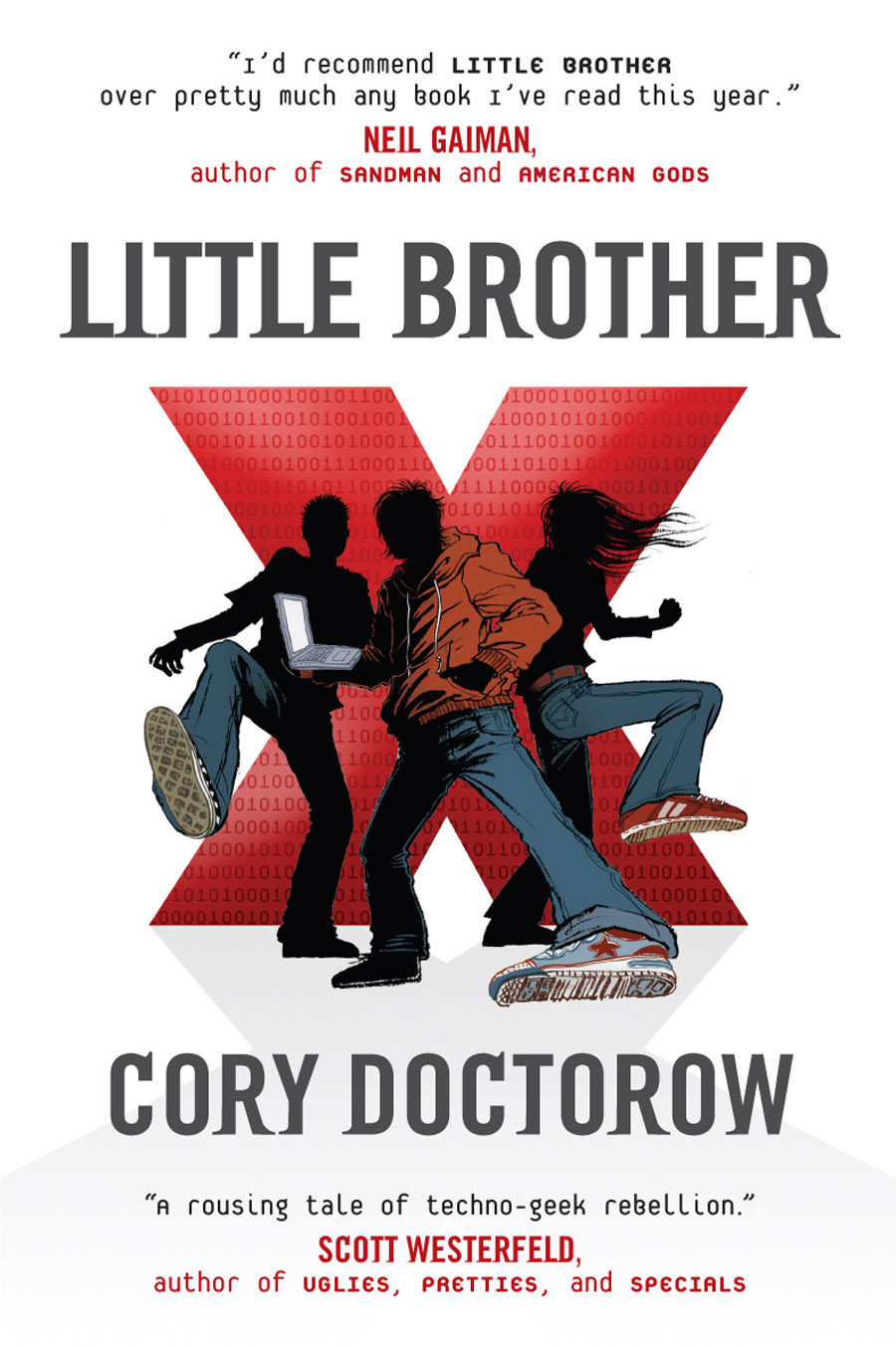 Little Brother (Novel)
Release date: 2008. Author: Cory Doctorow. Publisher: Tor Teen. ISBN: 978-0765323118.



Plot summary

: Tech-savvy, gamer Marcus Yallow is a high school senior in a San Francisco of the very near future. Constantly trying to evade his school's many security systems to play hooky, Marcus with his three best friends, Darryl, Vanessa (Van) and Jose Luis (Jolu), spends his time playing alternatate reality games and jaunting around his beloved city streets. One ordinary day, however, Marcus, Darryl, Van and Jolu get caught up in the aftermath of the worst terrorist attack in US history, and are taken into custody by the Department of Homeland Security (DHS). After being brutally interrogated, Marcus, Van and Jolu are released from prison and warned to never speak of their experiences as prisoners of the DHS. The return to their lives in San Francisco, only to find that the city is now overrun by menacing security precautions implemented by the DHS. Determined to expose the crimes committed by the DHS and thwart their efforts to "prevent future terrorist attacks," Marcus begins an all-out cyber war on the corrupt government agency. Using his computer hacking skills, new found love interest, Ange, and an army of high school students, Marcus delves deeper and deeper into his web of revenge. Will he be able to win this war, or will the government maintain its vice grip on lives of its citizens?



Critical evaluation

: Full to the brim with techno jargon, pop culture references, and "leet," Cory Doctorow's Little Brother is an entertaining, if somewhat far-fetched, story about how far governments can and should go to keep their citizens safe. The story is told in the first person by Marcus Yallow, high school senior and generally cocky computer hacker, who involuntarily becomes involed with the Department of Homeland Security (DHS) after a large-scale terrorist attack on his beloved San Francisco. Bay area residents will appreciate Marcus' references to San Francisco streets and neighborhoods, and Doctorow's descriptions of the city are clever to the point that it almost becomes as important a character as Marcus himself. Equally as compelling are Doctorow's detailed descriptions of the methods Marcus uses to thwart the DHS, making the novel almost a lesson in computer technology and security systems. By the end of the story, the reader will have a clear understanding of "arphids," "gait tracking software," "Linux," and much more. Apart from the obvious mischief and havoc Marcus causes by exploiting his computer skills, the novel also acts as a critical examination of the application of these technologies in monitoring the behaviors of American citizens. Even before the terrorist attacks, it is clear that the world Marcus lives in is one of heavy surveillance. Using the experiences of his characters, Doctorow shows a very possible future of security taken to the extreme. Overall, the novel is a very relevant and thought-provoking read for teens and adults alike.
Reader's annotation

: After being caught in the wrong place at the wrong time, Marcus Yallow, high school senior and computer whiz, launches a cyber war against the corrupt Department of Homeland Security that brutally interrogated him and his best friends following a terrorist attack.

About the author: Cory Doctorow is an author, journalist, blogger and self-described "technology activist." One of Doctorow's biggest areas of activism concerns copyright laws, which he believes should be much more liberal. Most of Doctorow's own novels have been published under Creative Commons licenses, allowing digital copies to be circulated free of charge as long as they are not used for money-making purposes. Many of Doctorow's novels focus on technology, privacy, and intellectual property. In addition to his novels, Doctorow is also the co-editor of the popular blog Boing Boing. Doctorow's latest novel For the Win was released in May 2010. Like Little Brother, For the Win is a young adult novel focusing on technology and how it impacts the lives of teens. (from craphound.com)
Genre

: Fiction
Curriculum ties

:
Terrorism and national security
Applications of computer technology
Government surveillance

Booktalking ideas:
Terrorism and national security
Applications of computer technology
Government surveillance
Friendships during times of violence or fear
Disagreeing with parents on political or social issues
Reading level/Interest Age:
8-12 Grade
Challenge issues:
Sexuality
Language
Torture
Strong themes (terrorism, secret prisons)
Using computer technology to cause havoc or mischief
Truancy
Challenge counterpoints:
Recommended for grades 8-12.
Recommend parent read book before child.
Recommend parent discuss book with child.
New York Times bestseller for six weeks
Winner of 2009 White Pine Award
Winner of 2009 Prometheus Award
Winner of 2009 John W. Campbell Memorial Award
Finalist for Hugo Award for Best Novel