Getting Revenge on Lauren Wood (Novel)
Release date: 2010. Author: Eileen Cook. Publisher: Simon Pulse. ISBN: 9781416974338.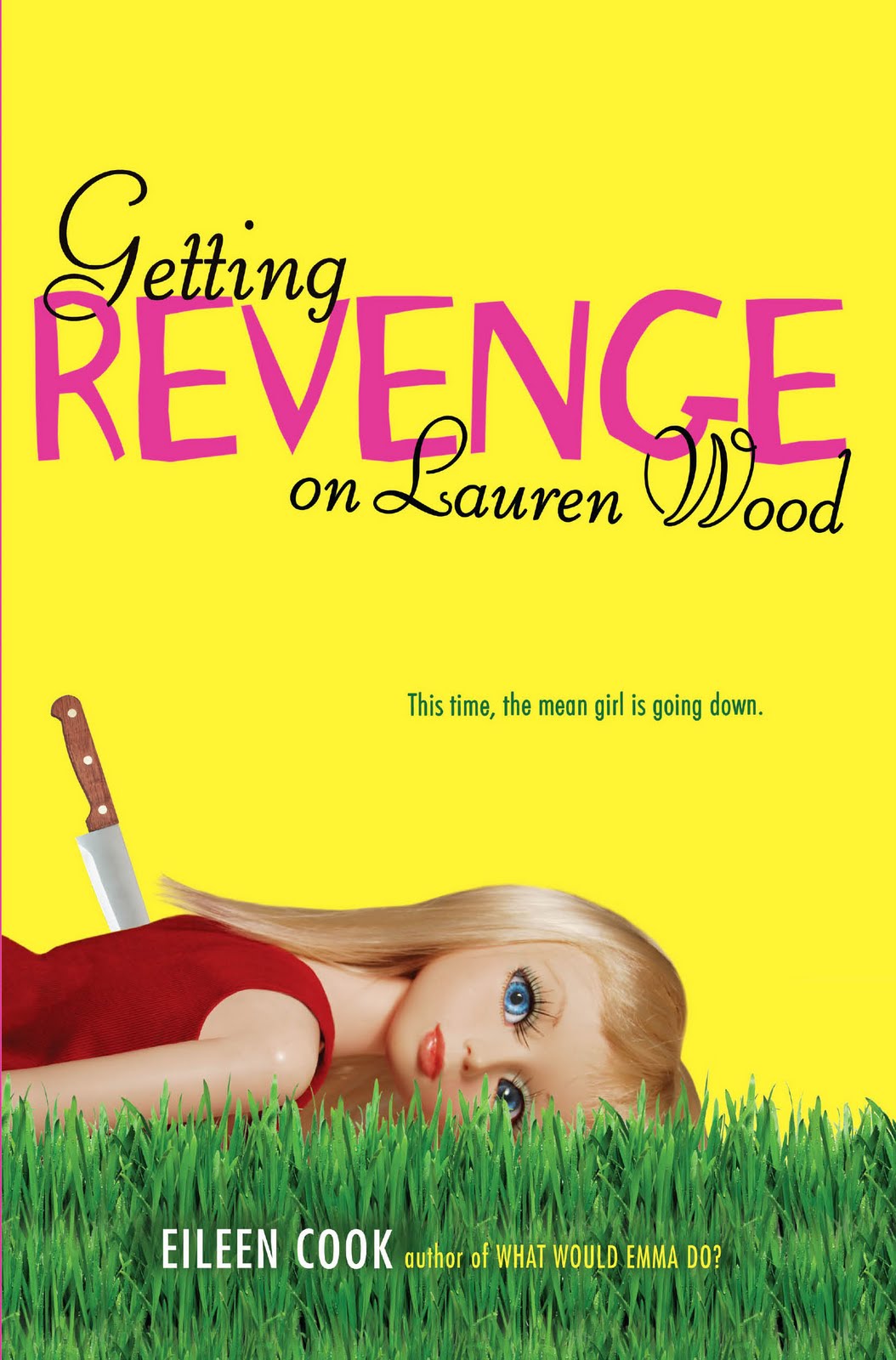 Plot summary: Helen Worthington and Lauren Wood have been best friends for all fourteen years of their lives. They know each other better than anyone and do everything together. When Lauren decides she wants to start high school on the right foot, however, she betrays Helen, sacrificing their friendship for popularity. The whole school hates her and Helen is crushed. Luckily, her parents decide to move to New York, and Helen begins life at a new school, free of Lauren Wood. Helen spends three years in New York before her parents, devoted hippies, get a grant to study meditation in the wilderness. Instead of staying in New York by herself, her parents send her to live with her grandmother, who happens to live in Helen's old town, which means she'll be attending her old school. Helen has changed a lot since 8th grade, and decides that the perfect opportunity has arrived to get revenge on Lauren Wood. Donning her middle name, Claire, Helen creates a plot to destroy Lauren's life. What she doesn't expect is that, in destroying Lauren's life, she might ruin her own as well.

Critical evaluation: Getting Revenge on Lauren Wood is a fun and entertaining read that many teens will not only enjoy but also identify with. Almost everyone has had a moment where they felt betrayed by a friend. The hurt one experiences can last for years. Helen's plot for revenge will satisfy that lingering urge for vengeance for the reader. The title character, Lauren Wood, is the quintessential mean girl akin to Regina George in the film Mean Girls. In fact, much of the storyline bears quite a few similarities to the movie. Helen's revenge list, including getting rid of Lauren's boyfriends and group of followers, harkens to a similar list made by Lindsay Lohan's character in Mean Girls. The sabotaging of Lauren's desire to play the lead in the school play, My Fair Lady, also bears similarities to another Lohan film, Confessions of a Teenage Drama Queen. Despite these obvious nods to popular teen movies, however, Cook delivers a novel that is difficult to put down.
Reader's annotation: Helen Worthington and Lauren Wood have been best friends for all fourteen years of their lives. But when Lauren betrays Helen to ensure popularity in high school, Helen's mind is set on one thing: revenge.
About the author:
Eileen Cook always had a love for reading and writing, but was unsuccessful at finding a job. After attending Michigan State University, Cook became a counselor. Dissatisfied with this line of work, Cook decided to return to her love of writing. Cook's first novel Unpredictable was published in 2007, followed by What Would Emma Do? (2008) and Getting Revenge on Lauren Wood (2010). All of Cook's novels have achieved much success, and the rights to Unpredictable have been purchased to be made into a film. Cook lives in Vancouver with her husband and two dogs. (www.eileencook.com/)
Genre
: Fiction/Chick-Lit

Curriculum ties:
None

Booktalking ideas:
Friendship and betrayal
Revenge
Social aspects of high school
Karma

Reading level/Interest Age:
Grade 9-12

Challenge issues:
Language

Challenge counterpoints:
Recommended for grade 9 and up.
Recommend parent read novel before child.


Reasons for inclusion:
Positive review from School Library Journal.