97 Things To Do Before You Finish High School (Book)
Release date: 2007. Author: Steven Jenkins and Erika Stalder. Publisher: Zest Books. ISBN: 9780979017308.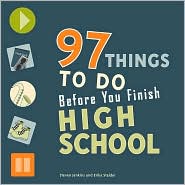 Plot summary: 97 Things To Do Before You Finish High School seeks to educate students that there is more to being in high school than simply going to school. None of the 97 things listed in the book pertain to school, but instead focus on other aspects of a teen's life. The 97 item list is divided into nine sections: "For your personal development," "With/for friends," "With/for family," "For your body," "To get to know the world around you," "To express yourself," "To benefit your community and environment," "Because you should," and "Because you're only young once." Within each section are various activities for teens to complete and instructions on how to accomplish the task and the benefits. Activities range from simple to more complex. For example, in the personal development category goals include to "interpret a dream" or "assemble a photo album" but also to "connect with a role model" or "make a public speech." The section of self-expression includes "designing a tee-shirt" and "learning to play an instrument." The book also explains that high school students don't have to complete all 97 tasks, but advises picking and choosing based on personal interests.

Critical evaluation: 97 Things To Do Before You Finish High School is a fun and inspiring guide for teens to try things they might not have thought of before they graduate. The main message is that there is more to being in high school than just homework, class, dances, popularity, and other typical high school concerns. All the to-do items are positive and beneficial. The majority of the items are also relatively low-cost and simple. Only a few tasks stand out as potentially difficult to achieve such as taking a road trip, enter a sports competition, visit a foreign country, hike to a mountaintop and go skinny dipping. The goals also represent a diverse group of interests and will appeal to a variety of teens. The division of the to-do items into sections is also a helpful tool to allow readers to navigate all 97 activities. Each section contains a variety of items ranging from simple to complex. Some of the more stand-out items on the list include "host a film festival," "end an argument," "spend quality time with your grandparents," "learn the constellations," "write your own manifesto," and "spend a day in silence." The instructions for each item are also very helpful, and an explanation of the benefits the teens can expect from completing each task help put them in perspective. Overall, a very interesting guide for teens that will appeal to many.

Reader's annotation: Think that high school is just about classes and homework? Think again!




About the authors:
Steven Jenkins is an author and cultural-critic from San Francisco. He has been involved with many projects in the arts, and is currently the deputy director of the San Francisco Film Society. He is the editor of both Artweek and Bay Area Citysearch and has published several books including City Slivers, Fresh Kills: The Films of Gordon Matta-Clark and 97 Things To Do Before You Finish High School. He also writes articles regularly for several publications such as Out, New York, Detour, Publishers Weekly and San Francisco Bay Guardian. (http://www.sffs.org/content.aspx?catid=17,32&pageid=469)
Erika Stalder is an author of advice books and guides for teens. She also has a regular advice column and blog, "Dear Erika," devoted to the same topic. Stalder has written several books for teens including

97 Things to Do Before You Finish High School

(2007),

The Date Book: A Teen Girl's Complete Guide to Going Out With Someone New

(2007),

Fashion 101: A Crash Course in Clothing

(2008), and

In the Driver's Seat: A Girl's Guide to Her First Car

(2009). In addition to writing, Stalder has also created a workshop about dating, and held a "Girl Summit" in 2007 to address important topics for teens. (from

erikastalder.com/home/

)


Genre: Non-fiction

Curriculum ties:
Life management

Booktalking ideas:
Contributions teens would make to the list of to-do items
Sharing of experiences in completing items on the list

Reading level/Interest Age:
Grade 9 and up.

Challenge issues:
Mention of sexuality (safe sex)
Item number 91 is to go skinny-dipping

Challenge counterpoints:Recommended for grade 9 and up.
Recommend parent go through book before or with child, discussing each item.
Recommend parent decide which activities would be appropriate for child.



Reasons for inclusion:
Positive review from Gumbo Teen Magazine, Carolina Parent and Nashville Parent.